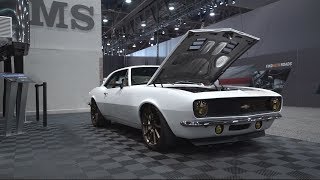 The fourth annual Danchuk Tri-Five Nationals kicked off on Thursday in Bowling Green, Kentucky, with a stunning display of Bowtie power and pride.


The Danchuk Tri-Five Nationals serves as a gathering place. For four consecutive years, the event in Bowling Green, Kentucky, has brought together folks from around the country with one common interest: the 1955-1957 Chevy.

The biggest drag race in the world kicks off in less a month, and COPO Camaro teams are most definitely ready to hit the track at the Chevrolet Performance U.S. Nationals. Last year, COPO driver David Barton claimed the NHRA Factory Stock Showdown win in "The Big Go" at Lucas Oil Raceway at Indianapolis. The prestigious victory propelled him to the category championship.

 
HOT ROD Power Tour is special.

It's not just the cars, or the driving, or the seven cities visited in seven days. Each of those would certainly be worthy of the trip in their own right. But what makes Power Tour a yearly pilgrimage for so many is the people.

Over and over again, that sentiment is echoed throughout the week by folks from all walks of life, who make their living in so many different ways all over the country.

 

Among the many unique trucks on hand at the C10 Nationals inside Texas Motor Speedway was one that came from the other side of the world. The school-bus colored, right-hand drive 1977 Holden One Tonner caught our eye both for its stunning fabrication work and the LS swap under the hood.

 

In just a few short weeks we'll be making our annual trip to Detroit to hit Woodward Avenue. Today we're featuring Tom Pfister's stunning 1967 Camaro from last year's event.

For some of us here at The BLOCK, we've been in regular, annual attendance of the cruise on Woodward for half a decade now. We always run into familiar faces, and of course new faces. With that comes a bit of a struggle to find the real gems in the hordes of classic cruisers, muscle cars and hot rods.